The number of coronavirus cases is still relatively high, but many countries have recorded the slowest pace in new cases and deaths in the past few days. The attention is therefore slowly shifting towards how quickly countries should ease lockdown restrictions and resume activities without risking a second wave of the virus outbreak. This week, investors will likely monitor:
COVID-19 Updates
Plans to Restart the Economy
Earnings Season
Economic Data Back in Focus
COVID-19 Updates
Some countries are showing signs that the COVID-19 new cases and the death toll count are easing but investors are still looking for concrete indicators of containment of the virus across the globe. Governments are facing increased pressure to communicate plans to resume activities.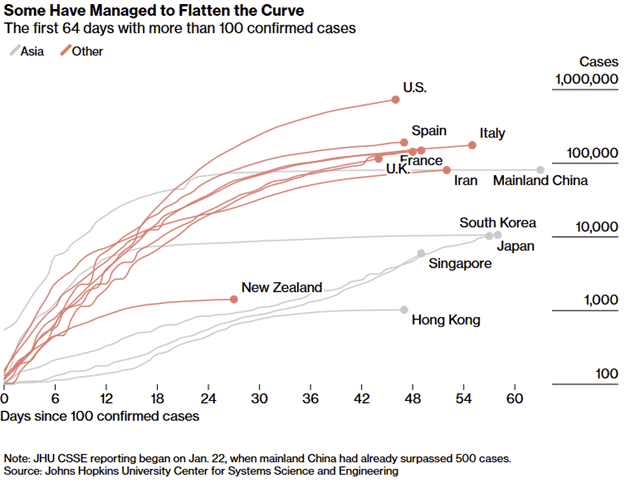 As of Sunday afternoon, there were nearly 2.4 million confirmed cases and 164,000 deaths globally. We expect investors to continue to monitor any developments on the virus and keep track of the countries that are slowly easing lockdown restrictions.
It is an unprecedented situation and there are no precedents to determine what to expect, how it will be handled and at what pace countries will return to normal. It will be important to see how countries will approach the resumption of activities while trying to also prevent another wave of the virus outbreak.
Plans to Restart the Economy
Investors are navigating in the unknown and will be looking for more guidance from governments. As more countries or certain states are seeing signs of easing, governments will be expected to roll out plans to identify which industries or sectors will become operational again.
We are already seeing countries like the US and India trying to draft proposals to slowly reopen their economy. The week will likely unfold with more updates on strategies to reopen economies which will remain tied to whether virus curve continues to flatten.
The attention is also expected to be on the debates of whether it is too early to ease lockdown restrictions and the need for countries to have a functional nationwide testing system in place to ensure a smooth and safe transition without compromising the progress made during the great lockdown.
Earnings Season
It is the first earnings season that reflects the coronavirus outbreak. The estimates reflect the terrible profit outlook that investors are expecting for the next two quarters, given the evolving nature of the virus.
Last week, banking giants like JP Morgan, Wells Fargo, Citigroup, Bank of America, Goldman Sachs and Morgan Stanley all reported a significant drop in profits tied to the pandemic. Goldman Sachs and Morgan Stanley were among the few that fared better compared to their peer, due to certain divisions posting strong results.
In the week ahead, attention will be on the following key earnings results:
Monday
International Business (IBM)
Tuesday
Coca-Cola Co (KO)
Netflix Inc (NFLX)
Philip Morris International (PM)
Wednesday
AT&T (T)
Thursday
Intel Corp (INTC)
Friday
American Express (AXP)
Verizon Communications Inc (VZ)
Investors will also keep an eye on US airlines- United Airlines, American Airlines and Delta Airlines' earnings results which are expected to be released this week. However, certain airlines are yet to release a formal date.
Economic Data – Back in Focus
The International Monetary Fund's (IMF) forecasts have placed economic data releases back in focus. The IMF has predicted that the economic impact of the COVID-19 pandemic might result in the worst recession since the Great Depression. The IMF expects the world economy to contract by 3% in 2020 due to the various forms of lockdown seen across the globe.
The Manufacturing and Services PMI figures across the US, UK, Eurozone, and Germany will be in the limelight. Manufacturing PMI has slowed in March and investors will look for April readings to gauge the pace of the contraction.
ZEW and IFO surveys, RBA Minutes, Canadian inflation data, UK Jobs report and Retail Sales will also be the highlights of the week.
Earnings Season
Monday
Consumer Price Index (New Zealand) Merchandise Trade Balance, Imports and Exports (Japan)
PBoC Interest Rate Decision (China)
Producer Price Index (China)
Chicago Fed National Activity Index (US)
Tuesday
RBA Meeting Minutes and Governor Lowe Speech (Australia)
Claimant Count, ILO Unemployment Rate and Average Earnings (UK)
ZEW Survey – Economic Sentiment (Eurozone)
ZEW Survey – Current Situation and Economic Sentiment (Germany)
Retail Sales (Canada)
Existing Home Sales (US)
GDT Price Index (New Zealand)
Wednesday
Westpac Leading Index (Australia)
Consumer and Retail Price Index, Producer Price Index and PPI Core Output (UK)
Consumer Price Index (Canada)
Housing Price Index and EIA Crude Oil Stocks (US)
Thursday
Commonwealth Bank Manufacturing PMI (Australia)
Leading Economic Index (Japan)
Public Sector Net Borrowing and Retail Sales (UK)
Gfk Consumer Confidence Survey, Markit Manufacturing and Composite PMI (Germany)
Markit Manufacturing, Services and Composite PMI (Eurozone)
Markit Manufacturing and Services PMI (UK)
ZEW Survey Expectations (Switzerland)
Jobless Claims, Markit Manufacturing, Services and Composite PMI, New Home Sales, and Kansas Fed Manufacturing Activity (US)
Friday
GfK Consumer Confidence (UK)
Consumer Price Index and All Industry Index (Japan)
IFO – Business Climate, Current Assessment and Expectations (Germany)
Durable goods, Nondefense Capital goods, and Michigan Consumer Sentiment Index (US)
Source: www.gomarkets.com.
Was this post helpful?
Let us know if you liked the post. That's the only way we can improve.